China's property developers face uphill battle

点击量:19606

新闻类型:National
新闻来源:ChinaDaily
更新时间:2014-5-8 11:17:19
BEIJING -- China's property developers face an uphill battle as home sales decline and profits shrink.

Among the 117 developers listed on the Shanghai and Shenzhen stock exchanges, 61 posted shrinking profits or even losses for the first three months, according to statistics compiled by property agency Centaline Property published on Tuesday.

Total net profits of the 117 developers stood at 9.65 billion yuan (about $1.55 billion) for the first quarter, down 27 percent from the same period last year, the data showed.

The results should not come as a surprise as China Vanke, the country's largest real-estate developer by revenue, posted on April 29 its first quarterly profit decline since 2002.

The Shenzhen-based China Vanke, widely seen as a bellwether for the residential market in China, registered a 5.2 percent drop in first quarter profits with a whopping 32 percent fall in revenue.

The disappointing performance came amid falling home sales nationwide. Official data showed sales of residential property dipped 7.7 percent during the first quarter to 1.1 trillion yuan, while sales by residential area contracted 5.7 percent to 178.25 million square meters in the same period.

Developers have also been languishing in the land auction market.

The top 20 developers by home sales have bought less land in the first four months. The value of the land they bought decreased from 60.1 billion yuan in January to 32.56 billion yuan in February, then continued to drop to 25.45 billion yuan in March and to April's 13.3 billion yuan, according to Centaline Property.

Declining sales along with shrinking profits and land purchases all point to a property market that has lost steam.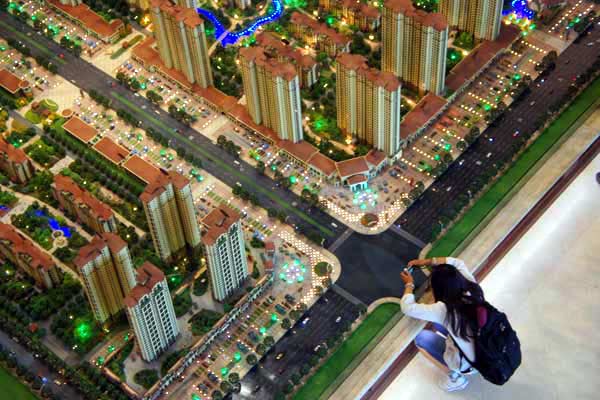 A potential homebuyer takes a photo of a property display model in Beijing. [File photo / China Daily]

分享:

责任编辑:冰纪