Discovering Beijing through bicycling

点击量:20750

新闻类型:Life
新闻来源:China Daily
更新时间:2014-5-9 12:30:43
Shortly after I arrived in Beijing last year, a friend in South Korea asked me if I had yet bought a bicycle. As an avid motorcyclist for many years, who has ridden throughout New Zealand, Australia, the United States, South Korea, Thailand and Indonesia, I laughed at the thought of riding a bicycle. A self-affirmed adrenaline junkie, I wasn't yet ready to slow down to cycling speed.

Then, as chance would have it, a colleague went home for an extended time, leaving his bicycle behind and telling me I was welcome to use it. The Korean friend now has the last laugh, as he listens to me extol the virtues of bicycling in Beijing and exploring the city in ways not possible using other means of transportation.

My first ride here was in the early evening, the dusk light that is known to experienced motorcyclists as one of the most dangerous times to be riding. The soft half-light obscures smaller vehicles and provides an even stronger invisibility cloak to motorcycles and bicycles than they already have. But, like most things in China, such inconveniences don't slow the locals any. I found myself surrounded by other cyclists, weaving in and out of traffic, dodging cars, trucks, three-wheeled carts, motorized rickshaws and oblivious pedestrians, and marveling at how well it actually worked.

I was astonished that most cyclists didn't have lights, and my own first stop was a cycle store to get a bright strobe light to help myself be seen. I've found that especially useful when pedaling against the flow, something I quickly learned was a norm here where at least a quarter of the smaller vehicles in a lane are likely to be going the opposite way. "Swimming upstream", I tell myself each time I face the traffic head-on.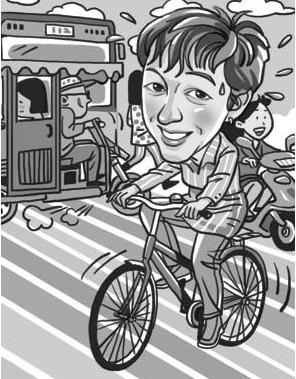 分享:

责任编辑:冰纪

评论(显示前六条)
冰纪12345:2014-5-15 20:33:13:
发表评论

admin(新闻管理员):2014-5-10 18:41:11
测试评论~