Chinese premier arrives in Kenya for visit

点击量:19789

新闻类型:National
新闻来源:ChinaDaily
更新时间:2014-5-10 18:23:30
NAIROBI -- Chinese Premier Li Keqiang arrived here Friday for a visit to Kenya, the last leg of his first Africa visit since he took office in 2013.

He was greeted by Kenyan President Uhuru Kenyatta and Deputy President William Ruto at the airport.

China and Kenya have enjoyed a traditional friendship, with their bilateral ties being developed in a sustained, stable and healthy way, Li said. The two countries have forged an all-round, wide-scope and multi-facet pattern of cooperation, becoming reliable friends and genuine partners.

Li said he expects to deeply exchange views with Kenyan leaders on bilateral relations and issues of common concern, so as to push forward the China-Kenya comprehensive cooperative partnership based on mutual trust and mutual benefit.

The Chinese premier will also meet officials from the United Nations Environment Program and the United Nations Human Settlements Program, and discuss with them China's cooperation with the two UN agencies during his stay in Kenya.

Before Kenya, Li visited Ethiopia, Nigeria and Angola, and delivered a speech at the headquarters of the African Union to expound China's Africa policy. While in Nigeria, he attended a World Economic Forum on Africa.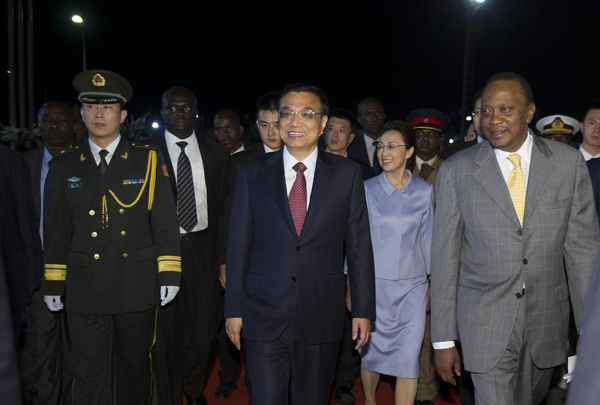 Chinese Premier Li Keqiang, left from 2nd, arrives in Nairobi, Kenya on May 9, 2014. [Photo/Xinhua]

分享:

责任编辑:冰纪