PLA chief blames Obama's focus on Asia for stirring trouble at sea

点击量:25084

新闻类型:National
新闻来源:AP
更新时间:2014-5-17 19:09:29
CHINA'S top general blamed the Obama administration's new focus on Asia for various disputes in the East and South China seas, claiming that "some neighboring countries" were using it as a chance to provoke problems.

Speaking to reporters at the Pentagon on Thursday, the People's Liberation Army's Chief of the General Staff General Fang Fenghui also warned that the US must be objective about tensions between China and Vietnam or risk harming relations between Washington and Beijing.

He defended China's deployment of an oil rig in the South China Sea and said China had no intention of abandoning drilling despite the violent protests it had spawned in Vietnam.

Fang was at the Pentagon to meet General Martin Dempsey, chairman of the joint chiefs, and the session came on the heels of riots targeting Chinese in Vietnam over China's deployment of the deep sea rig.

Vietnam sent a flotilla of boats to the area, which continue to bump and collide with Chinese vessels guarding the rig.

Fang made it clear that the drilling is in China's territorial waters. The general said, "We cannot afford to lose an inch of that territory, which has been passed down by ancestors."

He said some neighboring countries, including Vietnam and Japan, were using America's so-called pivot to Asia as an opportunity that has "stirred up some of the problems which actually make the South China Sea and East China Sea not so calm as before."

The increased focus by the US on Asia has included an increase in military troops, ships and other assets in the region.

Fang also met Vice President Joe Biden, who said the US was "seriously concerned" about China's "unilateral actions" in the dispute with Vietnam.

Biden told Fang the US didn't take sides in the confrontation between the two countries, but said no nation should take "provocative steps" that undermine stability and peace.

Dempsey described his meetings with Fang as a "refreshingly frank and open discussion on our mutual concerns and differing opinions."

He added: "We made note of the ongoing negotiations, and we made note of the alliance obligations of the United States."

Fang's visit was heralded with a rare full military honors ceremony at the Pentagon, complete with US Navy band, troop formations and a 19-gun salute.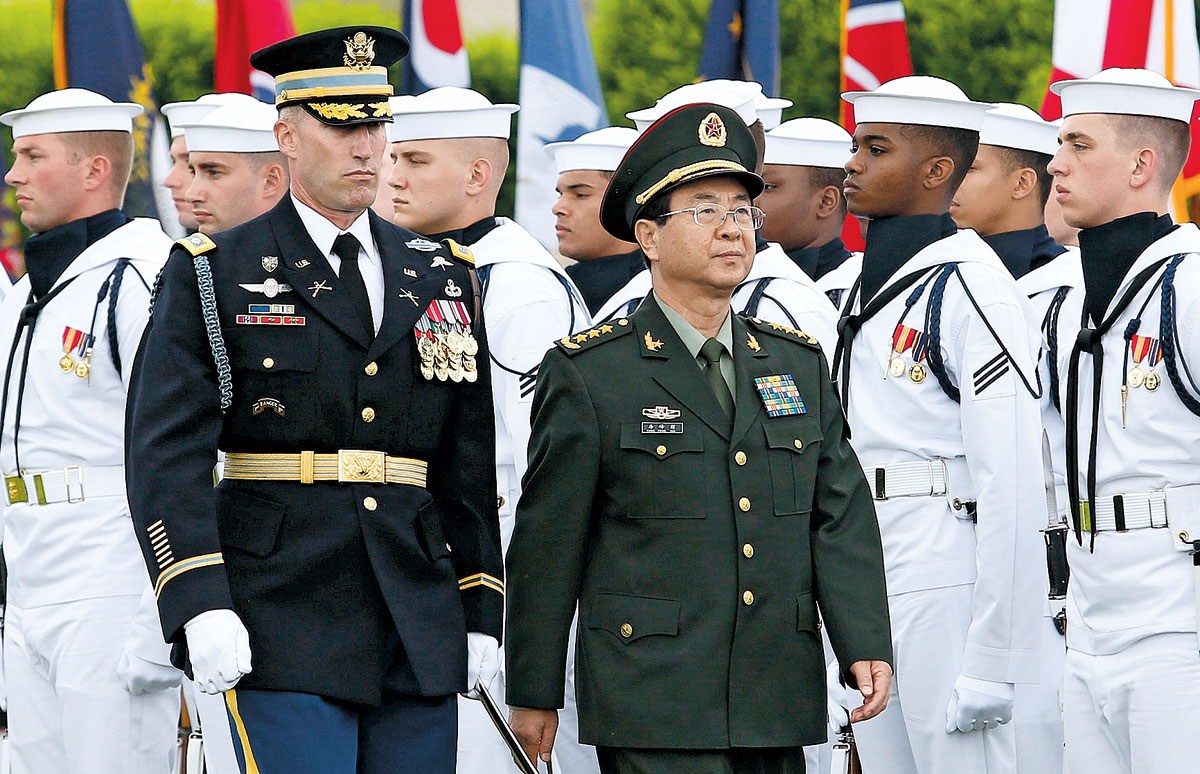 US Army Lieutenant Colonel Kurt Smith (left) and Chinese Chief of the General Staff of the People's Liberation Army General Fang Fenghui review troops during an arrival ceremony at the Pentagon in Washington on Thursday. Fang's visit was heralded with a rare full military honors ceremony on the Pentagon's parade field, complete with a US Navy band, formations of troops from all the services and a 19-gun salute. China's top general blamed the Obama administration's new focus on Asia for various disputes in the East and South China seas, saying "some neighboring countries" were using it as a chance to provoke problems. — Reuters

分享:

责任编辑:冰纪