Vietnam riots 'threaten ties and investment'

点击量:26984

新闻类型:International
新闻来源:ChinaDaily
更新时间:2014-5-21 19:00:13
Anti-China riots in Vietnam will hurt the confidence of investors and damage relations, experts said, as thousands of evacuated Chinese workers arrived home on Tuesday.

A total of 3,553 workers arrived at Xiuying Port in Haikou, Hainan province, after traveling for nearly 20 hours. Beijing has sent charter flights and four vessels to evacuate Chinese workers in Vietnam, where violence targeting foreign companies has left at least four Chinese nationals dead and more than 100 others injured since May 13.

China Metallurgical Group Corp said on Tuesday that four of its workers were killed last week in the riots.

Zhang Ji, head of the foreign trade department at the Ministry of Commerce, said the violent protests had caused enormous economic losses, damaging the healthy development of bilateral trade.

"If the violence escalates, it will hurt not only Chinese people's feelings, but also the confidence of companies from both countries. That will also be detrimental to the Vietnamese economy," Zhang said at a news conference in Beijing.

The economic losses of Chinese enterprises in Vietnam are still being calculated.

Trade volume between the two countries reached $65.5 billion last year, with year-on-year growth of 30 percent. Beijing has been Hanoi's largest trade partner for years.

Major Chinese travel agencies have canceled tours to Vietnam. China has also suspended part of bilateral exchanges.

Lu Jianren, lead researcher at the China-ASEAN Research Institute at Guangxi University in Nanning, said, "The rioting will have an adverse effect on both the Chinese and Vietnamese economies, but Vietnam will be hit harder, as it relies on Chinese exports ranging from daily commodities to advanced industrial products."

On Tuesday, Foreign Ministry spokesman Hong Lei urged Hanoi to investigate the riots, punish those responsible and offer compensation for losses.

"We also ask Hanoi to take effective measures to safeguard China's institutes and personnel in Vietnam," Hong said.

State Councilor and Defense Minister Chang Wanquan urged Vietnam to "respect history, face up to reality and look at the bigger picture of China-Vietnam friendship instead of making repeated mistakes".

He made the remarks when meeting his Vietnamese counterpart Phung Quang Thanh on the sidelines of the ASEANChina Defense Ministers' Meeting in Naypyitaw, Myanmar, on Monday.

Xinhua contributed to this story.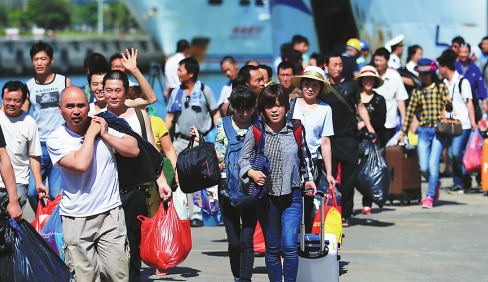 分享:

责任编辑:冰纪