Smoking scenes still cloud screens

点击量:29420

新闻类型:National
新闻来源:ChinaDaily
更新时间:2014-5-21 18:56:06
Despite incremental improvements, China's entertainment screens continue to be shrouded in tobacco smoke, according to the latest survey by the Chinese Association on Tobacco Control.

On the plus side, Chinese-made movies and TV dramas shown last year contained fewer smoking scenes than in past years, a survey of 60 dramatic works said.

The survey has been conducted annually since 2007 in China, which has the world's largest smoking population-roughly 300 million people, according to the association's Deputy Director Xu Guihua.

"Improvements were seen in 2013, but we are still a far cry from tobacco-free screens in a country where the smoking rate has continued to increase among the young and the female," Xu said on Tuesday.

The State Administration of Radio, Film and Television issued an order in 2011 to limit scenes showing the use of tobacco in movies and TV series, but violations are common, she said.

Among the 30 Chinese-produced films shown in 2013 that were selected for analysis, 19 contained smoking scenes-308 scenes altogether-consuming a total of 1,257 seconds of playing time, the survey found.

The Hong Kong thriller The White Storm got the "filthy ashtray award", for having the most smoking scenes. There were 53 scenes lasting 230 seconds in the police story, accounting for 2.8 percent of the film's total length-an average of one smoking scene for every 2.58 minutes of the presentation.

Yao Hongwen, spokesman for the National Health and Family Planning Commission, urged changes.

"Adolescents are highly susceptible to the influence of smoking scenes in films and TV series, particularly those starring their idols," Yao said.

According to Yao, China has more than 130 million adolescents, of whom 15 million smoke. More than 40 million once tried lighting up, he said.

Xu said broad efforts to curb smoking in society have paid off, a result that is reflected in the surveys.

Smoke-tainted films accounted for 63 percent of the total polled in 2013, down 23.4 percentage points from 2007, she said.

Smoking scenes averaged 66 total seconds in the "contaminated" films, down roughly 60 percent from 2007, the surveys found.

Smoking may be depicted in almost any environment-public places, households and workplaces.

For Chinese TV dramas, the general situation is a bit better than the big screen, Xu said. Half of the 30 domestically made TV series polled are smoke free, compared with 90 percent in 2007.

The TV drama Finding the Path, about the Chinese revolution led by chairman Mao Zedong, had the most smoking scenes, according to the survey. There were 484 smoking scenes in the 44-episode series, an average of about 11 per episode, it said.

About 4 percent of the total length was "mired" in smoke, the survey said.

Altogether, 848 smoking scenes were found in 15 TV dramas, running a total of 6,277 seconds.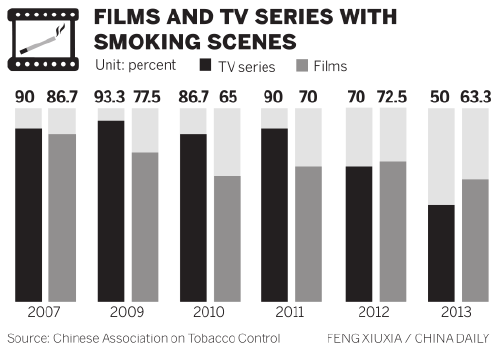 分享:

责任编辑:冰纪