Terror fight 'must be intensified'

点击量:35348

新闻类型:National
新闻来源:ChinaDaily
更新时间:2014-5-23 19:44:07
XU WEI/WANG QIAN

The latest attack in the Xinjiang Uygur autonomous region highlights the need to intensify the fight against the growing threat of terrorism at multiple levels, according to security analysts and experts.

Ma Pinyan, a senior anti-terrorism researcher, said there had been a growing number of attacks and there was also the possibility that more people had become terrorists despite a crackdown on extremist activities in recent years.

"Not enough efforts are being made to solve terrorism at its roots," said Ma, deputy director of the Ethnic and Religious Study Center at Xinjiang Academy of Social Sciences.

"The ideological basis for terrorism is religious extremism. The extremists have increased their efforts to indoctrinate people."

On Thursday morning, two cars without license plates plowed into people at an open-air market in Urumqi, the regional capital, with the occupants throwing explosives into the crowds.

The attack killed 31 people and injured at least 94 others. The Ministry of Public Security described it as "an extremely severe terrorist incident".

It was the second terrorist attack in Urumqi in less than a month. On April 30, a railway station explosion killed three people, including two attackers, and injured 79 others.

Xinjiang Party chief Zhang Chunxian said in March that the penetration of religious extremism had led to more attacks.

Tourism decline

Meng Nan, a Central Asian studies researcher at Xinjiang University, said the terrorists had become more focused and sophisticated in their attacks.

They chose the morning market for the latest attack because they could cause maximum panic, Meng said.

The attacks in Xinjiang would trigger a decline in the number of tourists to the region during the peak season, he said.

Besides economic damage, such attacks "can attract the attention of anti-China forces in the West, who will support the terrorists with funding or weapons", Meng added.

Ma said the timing of the attack, which came as China was hosting the Conference on Interaction and Confidence Building Measures in Asia in Shanghai, also meant that it was deliberately provocative.

He said modern forms of communications had also made the fight against terrorism more challenging.

All these factors meant that counterterrorism efforts must be intensified and carried out at all levels, the experts said.

Liu Lei, Xinjiang military command commissar, said religious extremists in the region tended to recruit jobless young people from rural areas.

He said most members of the violent or terror-related groups cracked in Xinjiang in recent years were jobless and aged between 10 and 25.

More must be done to ensure that people at the grassroots had jobs so that they did not fall prey to extremists, Liu said.

Ma said China needed to strengthen counterterrorism cooperation with Afghanistan and Pakistan, which were increasingly becoming bases for the planning of attacks and training of terrorists in Xinjiang.

Effective measures

A special law on counterterrorism was urgently needed, Ma said.

Dai Peng, a professor at People's Public Security University of China, said the nation should enhance its capacity to combat terrorism in terms of intelligence gathering at border areas.

Basic counterterrorism measures also included cutting terrorists' sources of funding and weapons, Dai said.

"Police should take effective measures to cut off their source of funding. Whenever banks discover the illegal inflow or outflow of funds by suspected terrorists, they should freeze the accounts immediately."

Police and customs officials should maintain the pressure in cracking down on arms smuggling, he said.

Meng said the government should improve cooperation on information gathering and sharing with other countries to target terrorists at home and abroad who increasingly used the Internet to spread their extremist activities.

Security checks and patrols at public places such as hospitals, schools, shopping malls and theaters must be strengthened because those areas were major targets for terror attacks, Meng said.

Everyone should stay on high alert for suspected terrorists and report them to the authorities immediately, Meng said, adding that a consensus should be reached-that terror attacks could cause huge damage to all ethnic groups and nationalities.

Zhang Yan and Cui Jia contributed to this story.

Contact the writers at xuwei@chinadaily.com.cn and wangqian@chinadaily.com.cn

LATEST TERRORIST ATTACKS IN CHINA

• April 30

A blast at a railway station in Urumqi, capital of the Xinjiang Uygur autonomous region, killed three people and injured 79 others. The terrorist group East Turkestan Islamic Movement masterminded the attack.

• March 1

Knife-wielding terrorists killed 29 people and injured 143 others at a railway station in Kunming, capital of Yunnan province.

• Feb 14

Eight terrorists were killed by police and three others committed suicide during a terror attack in Wushi county, Xinjiang.

• Jan 24

Six terrorists detonated suicide bombs in Xinhe county, Xinjiang.

• Dec 30, 2013

Nine terrorists attacked a police station in Yarkan, a county in Kashgar prefecture of Xinjiang, throwing explosives and setting fire to police vehicles. Police shot dead eight of them and arrested one.

• Dec 15, 2013

Police shot dead 14 terrorists and captured two suspects in Shufu, a county in Kashgar prefecture of Xinjiang, when police came under attack during a manhunt. Two policemen died in the attack.

• Nov 16, 2013

Nine attackers were shot dead after they killed two auxiliary police officers during an assault on a police station in Bachu county of Xinjiang. Another two policemen were injured.

• Oct 28, 2013

Terrorists from Xinjiang drove a jeep into a crowd at Tian'anmen Square in Beijing and set the vehicle on fire. Five people, including the three in the jeep, died and 40 others were injured.

• Aug 20, 2013

Local authorities clashed with terrorists in Kashgar prefecture, Xinjiang, leaving one police officer dead.

• June 26, 2013

Rioters killed 24 people, including 16 members of the Uygur ethnic group, and injured 23 others in a terrorist attack in Lukqun township, Turpan prefecture in Xinjiang.

• April 23, 2013

A terror attack left 21 dead in Selibuya township in southern Xinjiang's Kashgar prefecture after three community workers found several suspicious people and knives in a house and reported them to the police. The attackers inside and outside the house ambushed the police and community workers.

OFFICIAL RESPONSES:

PRESIDENT XI JINPING
Public security authorities must solve the case quickly and severely punish the terrorists.
We must treat the injured in good time and take good care of the victims' families.
Police must step up patrols and supervision in local communities and strengthen security work on possible terrorist attack targets. They should also try to prevent ripple effects of the latest attack from spreading to other areas.
The government must always be on high alert toward terrorism, and the fight against terrorists and terror activities must remain forceful so as to safeguard social stability.

PREMIER LI KEQIANG
A serious terrorist attack has taken place once again in Urumqi, causing massive civilian casualties. The crime is outrageous.
Efforts must be made to prevent panic among the public, and concrete steps must be taken to safeguard people's lives and property and to maintain social order.

MINISTRY OF FOREIGN AFFAIRS
The violent attack in Urumqi once again reflects the anti-human, anti-society and anti-civilization nature of those terrorists, whose act should be condemned by the Chinese people and the international community as a whole. The Chinese government has the resolve, confidence and capability to triumph in the fight against terrorists, whose goals will never be achieved.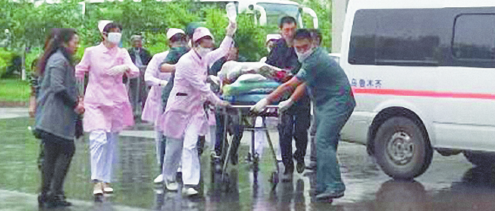 A victim is taken to the General Hospital of Armed Police in Urumqi on Thursday.[FU XIAOBO/XINHUA]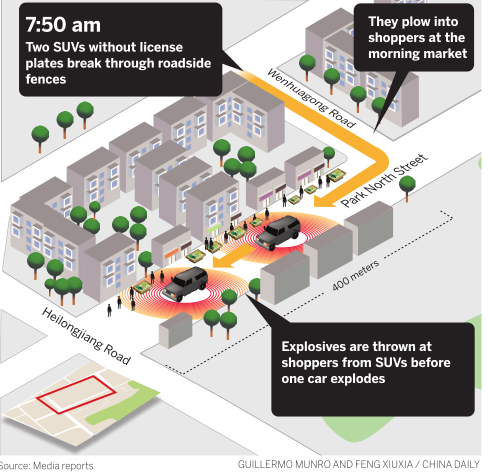 分享:

责任编辑:冰纪(新闻管理员)